No matter how strong your PPE is, anxiety and stress can get the better of  us –  particularly for workers returning to the workplace.
Join us for Medilaw Group's first webinar of the year Understanding and managing anxiety  on 23 February, 2021 at  1 – 2pm AEDT. Our resident host, Kylie Gould, together with our expert panel will explore ways in which we can identify anxiety, how to manage it and how to maintain positive mental health and wellbeing.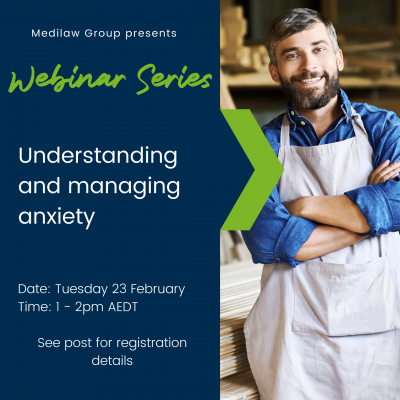 In partnership with WorkFocus Australia, we are thrilled to welcome the following industry experts to the panel:
– Dr Ghazala Watt, Psychiatrist, Medilaw Group
– Dr Victor Cheng, Psychiatrist, Medilaw Group
– Alyse Withers, Provisional Psychologist, WorkFocus Australia
This facilitated discussion will cover themes such as:
• What is anxiety and identifying the signs
• Managing anxiety following an accident and other scenarios
• Managing anxiety related to COVID-19 and how to adjust to the ever-changing restrictions
• Returning to the workplace and getting back on the road and/or public transport
• Role of exercise in managing anxiety and other strategies
Webinar: Understanding and managing anxiety
Date: Tuesday, 23 February 2021
Time: 1 – 2pm AEDT
To register, please click here.