Our digital CMO (dCMO) service provides customers with quick access to a variety of medical specialists for expert advice.
By providing this service digitally, customers gain fast access to many more specialists beyond the traditional specialties of Occupational Physician and Psychiatrist. Our dCMO service provides flexible, accessible, expert medical advice, which can be tailored to meet your requirements – from a quick query to a more detailed review and provision of a brief report.
For instance, you can ask a specialist consultant a quick question, such as an explanation of treatment, terminology or procedures. Advice is provided either by a phone call or via a brief email response, and may only take 15 minutes.
At the other end of the service, you can ask our specialist to review a case summary, participate in a case conference and provide you with a brief report with recommendations, which may take an hour or more.
You choose what is right for you, and in each instance we aim to have your answer within 72 hours.
Further information is available
Our dCMO product sheet provides further detail on this unique service, including what is included across three levels of service. For your copy of this product sheet, please make a request via the form below.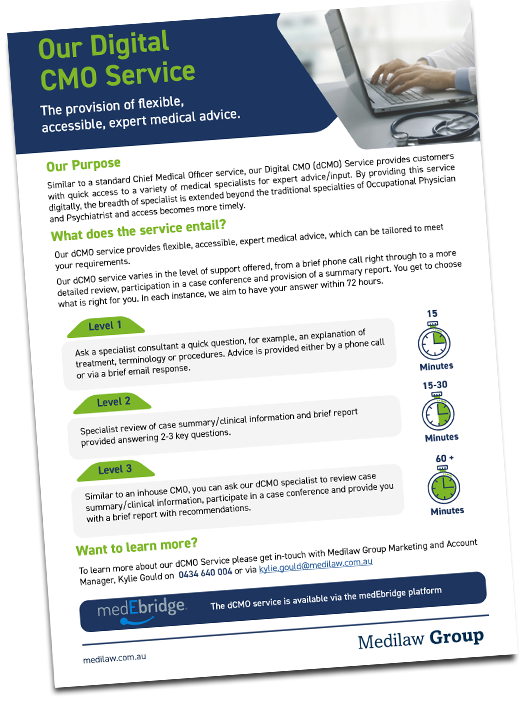 Learn more
If you would like to speak with us about our digital CMO service, please contact Medilaw and our friendly reception team will be happy to assist you.