Medilaw Group has launched 'preView' as an alternative to the current Independent Medical Examination process, offering insurers faster, confident decision making in a way that supports:
Efficient and fair decisions on claims
Provision of evidence-based healthcare for injured persons
Rapid approvals for validated recovery support to expedite return to health
A reduction in adversarial sentiment, complaints and recommendation overturns
A reduction in medical costs
preView involves rapid access to an independent panel of specialist consultants who conduct full case reviews and provide clinical support and well-reasoned guidance to help an insurer make fast, evidence-based, sustainable decisions in a way that reduces reputational risk and delays. The breadth and depth across all required specialties in the Medilaw Group ensures scalability.
This service involves engaging an appropriately credentialled and skilled surgeon to review the available information on a case and provide a report – empowering fast and informed decision-making, controlling costs, implementing best practice care and reducing instances of unnecessary interventions.
There are demonstrated impacts:
46%
of reviews completed results (should be resulted) in proposed surgical procedures not approved, as they were deemed unrelated to the accident or injury
36%
of reviewed surgical procedures were deemed unreasonable, inappropriate or unnecessary
Further information is available
Our preView brochure provides further detail on this new service, including how it was developed, the need it meets, outcomes realised to date and service expansion plans. For your copy of this brochure, please make a request via the form below.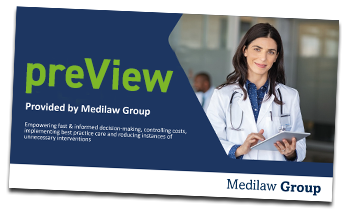 Learn more
If you would like to speak with us about preView, please contact Medilaw and our friendly reception team will be happy to assist you.